T 200 E | Textile Dyeing Controller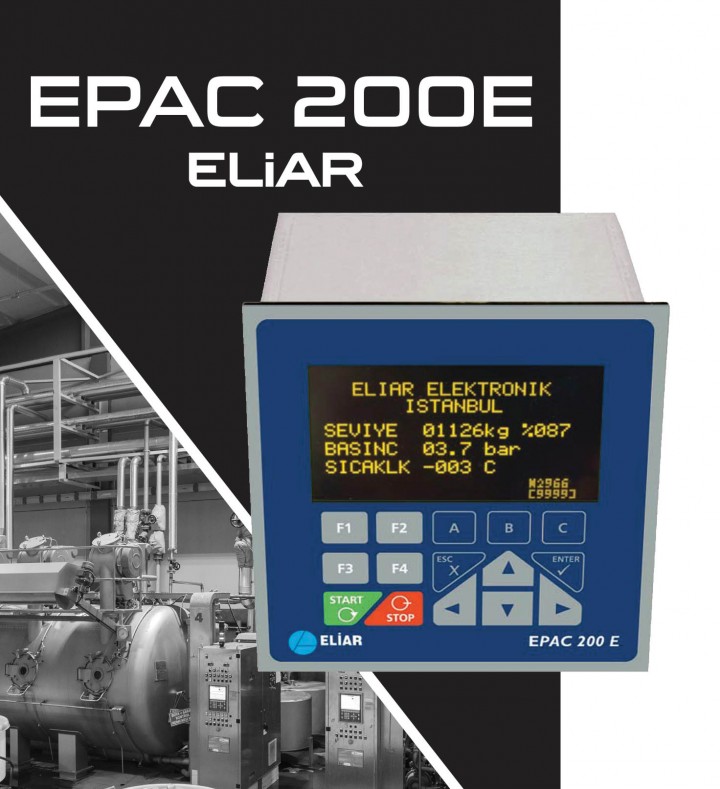 TEXTILE DYEING CONTROLLER
T 200 E is a micro processor based Ramping Controller, especially designed and developed for the automation of textile dyeing machines.
Thanks to modular structure of T 200 E, total number of digital and analog inputs-outputs can be increased by adding 1/0 moduls.
Graphical interface is used both for programming and monitoring of the dyeing process. The implementation of T 200 Eis not limited to dyeing machines only. It is used in a wide range of industrial applications, where ramping control of temperature is necessary.
• Dyeing programming and monitoring via graphical screen
• 90 Programs X 50 Steps
• 128*64 OLED graphical display
• 1/0 numbers (modular): 4/4/1/1 (min), 12/12/3/3 (max) (by miniMIO4411 modul)
• PC connection and remote monitoring through Mod Bus RTU
• Autotune facility for 2 independent (temperature and dosage control)
• Last 8 hours monitoring of past, theoretical and realized batch processes (x2)
• Last 10 alarms archive
• 2 levels password protection 1st level: system parameters
• 2nd level: programming
• RS422 or RS232 serial connection (by Com 200 modul)
• Selectable languages: Turkish – English
TEXTILE DYEING CONTROLLER
T 200 E Series Innovative Full Automatic Control Devices ; designed as a result of ELİAR's 35 years of experience and engineering know-how, are ready to help you to safely and economically control your textile dyeing machines. T 200 E Series is produced both with hardware and software by totally ELİAR.
Lets Talk About Our Products.
Call us for more information at +92 322 6096616.
Click below to get a Quotation.