PATERNOSTER | Powder Dyestuff Weighing System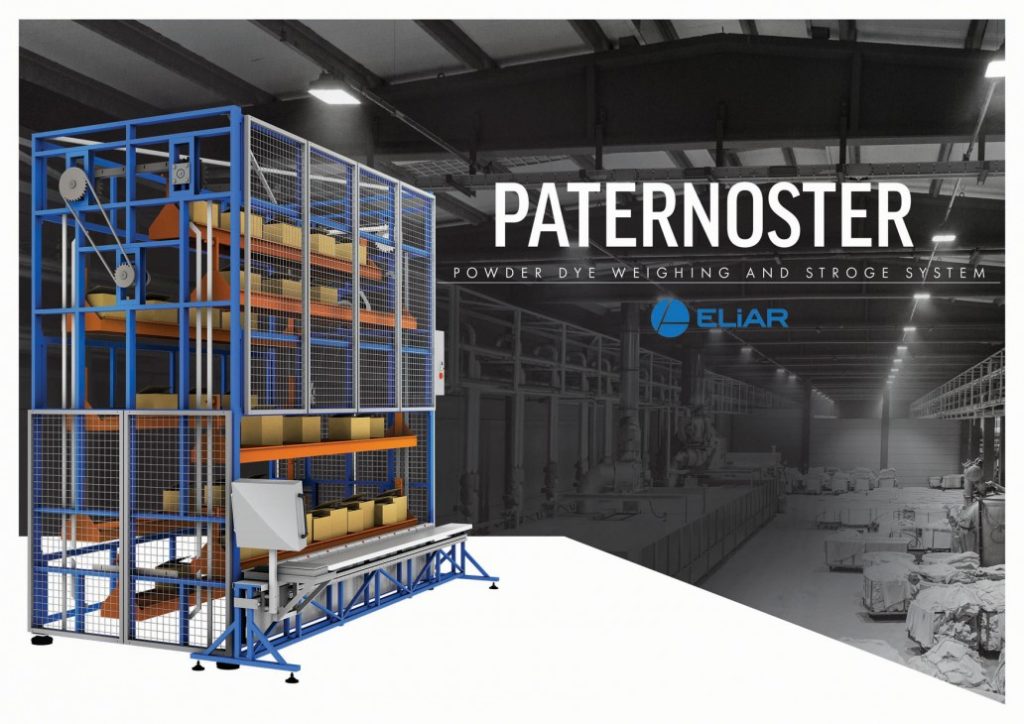 PRECISE WEIGHING & COMPACT DESIGN
It is important that everything is in the right place in your dyehouse. PATERNOSTER is a smart system that provides maximum powder dye storage with minimum space requirement.According to dye, which is inside the recipe, shelves automatically rotates to give the correct dye box to the operator. With its guided lamb system and barcode reader, PATERNOSTER eliminates all of the wrong weighings.
THE MOST ECONOMICAL SOLUTION OF POWDER DYESTUFF WEIGHING AND STORAGE
Paternoster is the most economical and cost-effective solution for powder dyestuff weighing and storage. Thanks to its software, which is developed by Eliar, it is fully compatible with all dyehouses and recipes. When dyestuff is requested, the system finds the active dyestuff by lowering the shelf to the corresponding dye. It works with zero risks, adds value to the dyehouse.
Powder-weighing and storage system Paternoster with engineering and assurance is the most economical system among non-fully automatic systems. Eliar, who is in the world market with the products in the textile sector, provides maximum efficiency running of dyehouses by Paternoster without any problem.
PATERNOSTER PROMOTION FILM
Lets Talk About Our Products.
Call us for more information at +92 322 6096616.
Click below to get a Quotation.